Well-SENSE founder presented with Significant Contribution Award at Offshore Achievement Awards
18 March 2016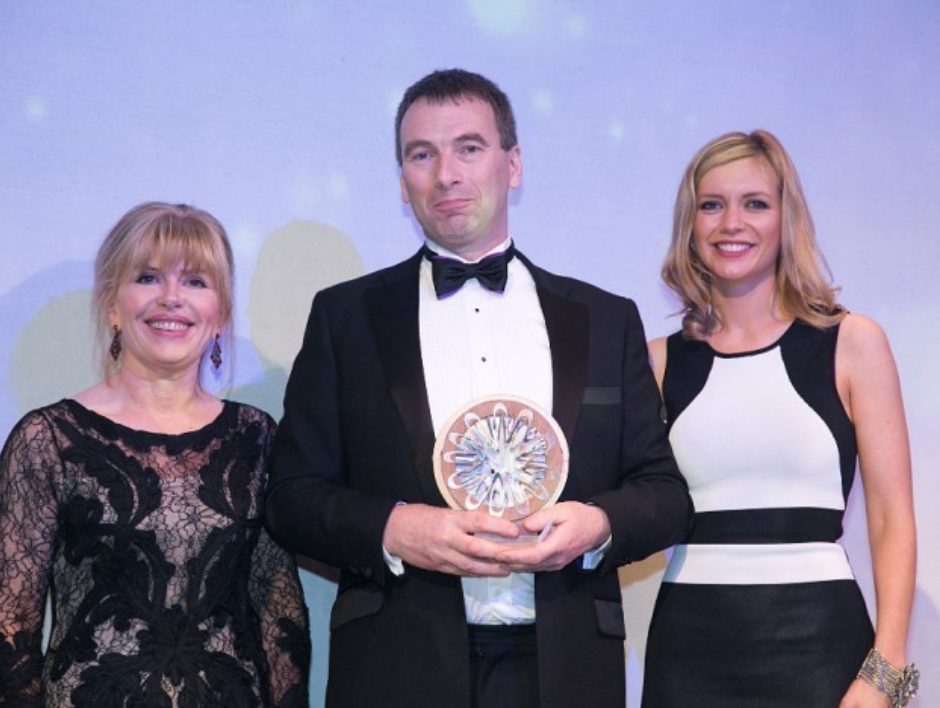 Well-SENSE Technology Ltd's co-founder and technology director, Dan Purkis, was last night presented the Significant Contribution Award at the 2016 Offshore Achievement Awards in recognition of his influence on the oil and gas industry.
The award recognises an individual, company, project or initiative which has made the most significant professional contribution to the offshore energy industry. Previous winners of which include Malcolm Webb, ex-Chief Executive of Oil & Gas UK and Professor Alex Kemp.
Dan, who holds over 50 industry patents, was acknowledged for introducing game-changing and innovative tools to the industry throughout his 20 year career, including his work on RFID Downhole, and his I-Ball Frac System, for which he won a World Oil Award in 2012.
Recognised as a thought leader on innovation, companies have been acquired based on Dan's technologies, some of which are now cornerstone product lines of multinational companies.
Well-SENSE was established in June 2015 as a creative house for engineering bespoke and high end technologies. Its latest concept, FLI (FiberLine Intervention) is a disposable method of intervention which has been developed based on technologies from the military and aerospace industries. It represents a radical advance in intervention methods, having also been shortlisted in the Emerging Technology category of the SPE-organised awards.
Of his award win, Dan said: "Receiving this award is a huge, huge honour and I'm incredibly humbled to have been recognised by my peers. I've been lucky to work with some of the most fantastic and dedicated engineering teams throughout my career and whilst it's satisfying to look back at my time in the industry – it's much more interesting to look forward and consider that now is the time to support the development of new technology.
"I firmly believe in looking to and applying concepts from other industries, which is what we've done in the creation of FLI; we've cast aside all preconceptions of well intervention and sourced technology from outside the industry.
"As a massively simplified intervention method, which has applications in virtually any well, it offers many benefits to operators - including a huge reduction in costs. Collaboration is at the heart of this development, and we aim to continue our work with other technology partners, complementing our expertise with theirs as the fastest route to the development of a complementary suite of tools to work with FLI."
Alan Dick of SPE Aberdeen said: "SPE is delighted to recognise Dan for his achievements and contribution to the industry. His passion for engineering is admirable and his enthusiasm for developing innovative wellbore technology position him as a key influencer going forward."
Based in Aberdeen, Well-SENSE was launched with the backing of specialist investors, each selected for their extensive well completion and intervention experience. The team work to integrate complimentary technologies from other sectors and create strategic alliances and collaborations with other industry specialists to offer the best solutions for the industry.